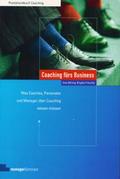 Coaching for Business is a book for all the more about Executive Coaching want to learn.
the
It's not only the Coaches themselves are addressed, but also, in particular Manger , an Overview of the various Coaching topics...
... and working methods of the different Coaches want to give.
the
The reclaimed facts about the Coaching market in a legible Form to be held and used to some of the false or vague ideas on the possibilities and limits of the trendy Business Coaching to correct it.
the
The book is such a versatile book reader, which – in spite of the hard facts again and again for reflection stimulates and overall very consistent sound.
the
Predicate: Very much worth reading for all, with regard to the Business Coaching scene want to learn!