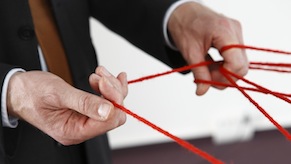 Always ask me, how can you (without, of course, manipulative, and without inauthentic seem to want to...) more to gain influence.

Prof. R. Cialdini has to this topic, the following 6 principles are worked out.
1. Reciprocity "As you me so I you."
application for managers: Give what is for the Opposite of great value, but a itself is not too expensive. Thus, an imbalance of manufacture, which, after compensation of the essence. Or Vice versa: A service request and bring it back to balance, so as to establish a trade relationship.

2. Scarcity is "Only briefly in the offer!"
application for managers:the scarcity of time and resources tactically.


3. Authority to "say What the is important!"
The principle of authority States that statements have a greater influence on human Action, if you of persons are taken as the authority shall apply.
application for managers: The view of your own early as the anchor position, so that the discussion is crucial vorzuprägen.
4. Consistency, "he Who says A says B"
The consistency or Commitment principle States that, for someone, for something, has decided to stay with it.
application for managers: For the own Position zieldienliche rules to establish and insist upon.


5. Consensus"All make it so
application for managers: statements such as "This is for us the Standard," "all make it with us", "we are so" deliberately as kulturprägendes a stylistic device.

6. Sympathy "is to me as a person sympathetic"
We agree people tend to, if we like them. Sympathy is created according to Cialdini by Similarity, compliments, and collaboration.
application for managers:Personal relationships and private conversations – for example, before Besprechungsbeginn – can fulfil an important function.